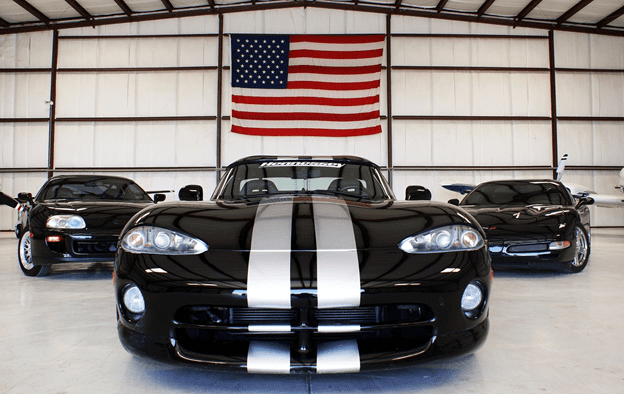 Love Chevrolet? Want to be involved in the amazing history of the brand and even better vehicles?
A classic American brand dating back more than 100 years, Chevy's gone from a small startup to an ultra-success, and with a wholesale dealer license, you can too! With the help of US Dealer Licensing, you can start wheeling and dealing some of America's favorite rides!
History fans, gearheads, and prospective car dealers hold on tight, we're going on a ride through history with one of the world's most iconic car brands.
When Did Chevrolet Start? And How?
Chevrolet's start in the industry was one of quick-found success and fame! Chevy's rise wasn't by sheer luck, however—the company had a famous racing namesake and the founder of some of the most successful cars in the world behind it!
I mean, how could you not make it at that point, call it destiny!
Chevrolet would soon take the US by storm, as well as expanding rapidly throughout the world with international factories and iconic creations.
1911: Chevy is founded when Swiss race car driver Louis Chevrolet and former GM founder and president, William Durant, joined together to produce cars under Chevrolet's name
1914: The Chevy Bowtie appears on a vehicle for the first time
1915: Chevy's first economy model hits the market, competing with Ford's Model T
1916: Louis Chevrolet would leave the company due to design differences, selling his shares, but granting them rights to continue manufacturing under his name
1917: Durant returns to General Motors, adding Chevrolet to the GM family
1918: Chevrolet produces its first truck model
1924: Chevy's first international factory is opened in Copenhagen
The Start of a Dynasty
Within two decades of starting out, Chevrolet was the top automaker in the United States, even surviving the challenges of the 30's and 40's coming into the post World War 2 period as industry leaders. In this period, the good stuff—V6 and V8 engines—that we still enjoy revving in our Chevys today would be added into their lineup.
1927: Chevrolet passes Ford in sales, selling over one million vehicles
1929: Chevy begins offering the "Chevrolet Six" V6 engine at the price of most major competitors' four-cylinder engines
1935: The Chevy Suburban is introduced, the longest-running continual nameplate in the industry, and creating the SUV category of vehicles
1942: Civilian car production is halted to help the United States' war effort during WWII
1945: Civilian production is resumed as the war comes to a close
Coming Into the Modern Era
Considered a golden age for American manufacturing, the post-war period would see a boom in the popularity of American automobiles, and Chevy would become a symbol of an era. Whether it's a Chevy Bel-Air and its infamous fins, or the classic image of a Chevrolet pickup truck, the colors and designs of the period are still idolized by fans young and old today.
Imagine being able to not only buy and sell cars like Camaros and Corvettes, but something like a museum-worthy Chevrolet from back in the day, courtesy of your wholesale dealer license!
1950: Chevy becomes one of the first to offer an affordable automatic transmission to consumers
1953: The Corvette debuts, originally a show model for the New York Auto Show. Interest is so high that Chevy decides to produce a model for the public
1955: The small-block V8 engine is introduced by Chevrolet
1967: One of the most famous and successful models ever produced by Chevy, the Camaro, debuts as an answer to Ford's Mustang
1979: Chevrolet builds its 100 millionth car
1992: Chevy produces its one millionth Corvette
What Is Chevy's Recent History?
As you know, Chevy is still a powerhouse to this day! With millions of cars being sold across the world each year, they continue to innovate the industry and impress customers. A favorite of car enthusiasts and fans of design and power, you'll see how they continue to make history today!
2009: The Corvette ZR1 becomes the most powerful vehicle ever produced by General Motors, with 638 horsepower and a 0-60 time of 3.4 seconds
2010: The Camaro returns to production. Discontinued in 2002, it would return to major commercial success more than 3 years after appearing in Transformers as a concept vehicle
2011: Chevrolet introduces its first electric vehicle, the Chevy Volt
2013: Chevy records record global sales, with over 5 million vehicles sold
2017: Chevrolet introduces Chevy Bolt and Chevy Trax redesign debuts
2019: The fourth generation of the Chevy Silverado is built, and the 2020 Corvette Stingray is announced
2020: The 2020 Corvette sells out before production starts
How Can I Become Part of the Legacy?
Now that you've seen how Chevy's gone from a small startup auto company making luxury cars to a powerhouse…how can you?
We'll tell you!
With a wholesale dealer license, you can start selling Chevy vehicles, or any other make of car you'd like. With US Dealer Licensing's fast and simple process you'll have a new career in no time!
How about that for a dream job?
Ready to start what could be an opportunity of a lifetime in the auto industry? If so, contact us here.